Electra Heart
"Electra Heart is the antithesis of everything that I stand for. And the point of introducing her and building a whole concept around her is that she stands for the corrupt side of American ideology, and basically that's the whole corruption of yourself." - Marina Diamandis
Released in 2012, "Electra Heart", was Marina's second album and it featured an incredibly new look and sound different from her previous work. While "Electra Heart" is the name of the album, it is also the name of a persona Marina has created for the album, which is basically the opposite of her in every way. She is cold, ruthless, and flirtatious, a good representation of the American Dream, Marina states. Within this album Marina plays up this persona and accompanies her with several fitting music videos, titled "episodes", made chronologically in a story-like presentation. This album was originally proposed in the beginning of her career as a side project, but evolved into something much bigger. Along with fan's satisfaction of the new sound and appearance, it ranked high in many album charts and won numerous awards which can be read about on the Accomplishments page of this site.
A sample from the album, song titled "Teen Idle"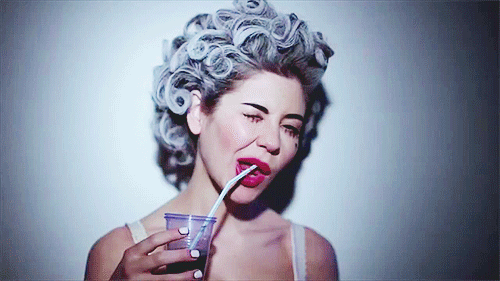 Track list:
Bubblegum B****
Primadonna
Lies
Homewrecker
Starring Role
The State of Dreaming
Power & Control
Living Dead
Teen Idle
Valley of the Dolls
Hypocrates
Sex Yeah!
Lonely Hearts Club
Buy the Stars