DIFFERENT STYLES OF RIDING
English Riding:

Dressage
Hunter
Cross Country
Show jumping
Eventing
Western Riding:
Pleasure

Reining

Cutting

Barrel Racing




Endurance - In endurance riding, horses and riders have an opportunity to show off their amazing fitness skills.
Saddleseat - The high trotting tendencies of the elegant Saddlebred horse. Saddleseat is a very showy discipline and the way a horse goes and behaves is of utmost importance for saddleseat riders.
Racing - The riders responsible for the daily riding of racehorses, have to be fantastic, experienced riders, but also fearless. Young racehorses are often excitable and hard to handle for an inexperienced rider.Jockeys, who ride in races, have to be fit both mentally and physically.
Dressage - The art of riding and training a horse in a manner that develops obedience, flexibility, and balance.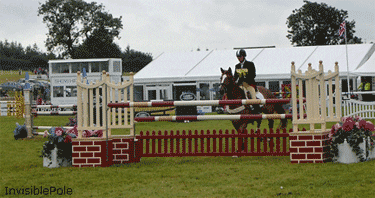 Show Jumping -  Competitive sport of riding horses over a course of fences and other obstacles in an arena, with penalty points for errors.
Cross Country -Is an endurance test. It involves jumping numerous jumps, but not any jumps. For example, jumping over logs, water, walls, and more.
Hunter - Hunter classes, is the horse's movement and manners are judged, with quality of movement paramount. In equitation classes, the rider's position, seat, and aids are judged.
Eventing - An equestrian sport in which competitors must take part in each of several contests, they are cross-country, dressage, and show jumping.
Pleasure - Western style of riding  that requires horses with calm manners suitable  for a relaxed but collected gait and relatively slow speed of gait, along with calm and responsive disposition.
Reining - Where the riders guide the horses through a precise pattern of circles, spins, and stops.
Cutting - Western-style competition which focuses on a horse and rider working as a team in order to demonstrate the horse's athleticism and ability to handle cattle.
Barrel Racing - Is a rodeo event in which a horse and rider attempt to complete a cloverleaf pattern around preset barrels in the fastest time.